DEBUTS WITH SOLO VERSION OF WINNING TRACK "SECOND GUESSING" THIS FRIDAY (1/13)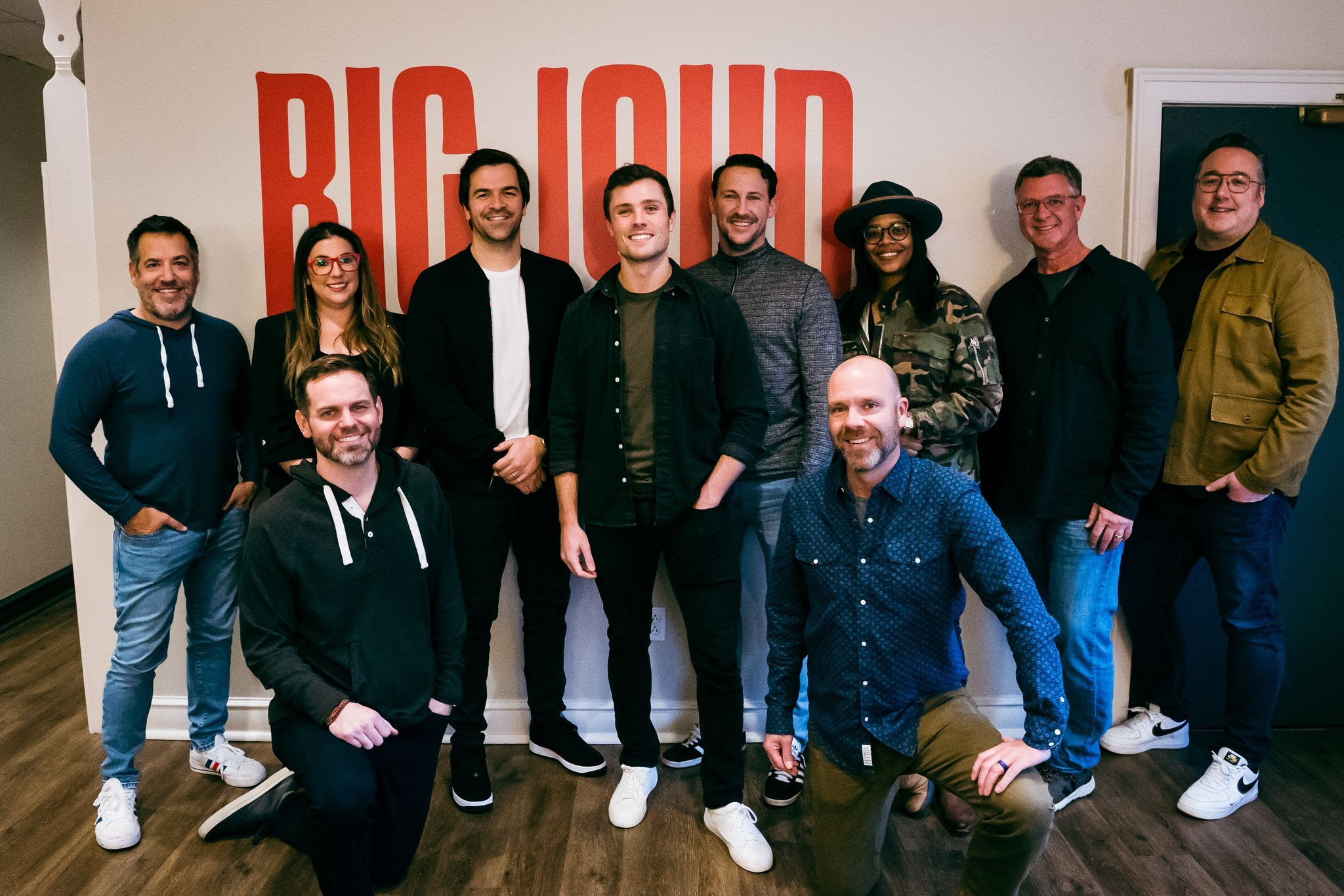 Griffen Palmer Signs with Big Loud Records | Image by Brayln Kelly | Download Here
PHOTO (L-R): Back Row – Kris Wiatr (President, Wiatr & Associates), Stacy Blythe (SVP of Promotion, Big Loud Records), Patch Culbertson (GM/SVP, Big Loud Records), Griffen Palmer, Shannon McNevan (CEO, Starseed Entertainment), Candice Watkins (SVP of Marketing, Big Loud Records), Greg Thompson (Partner/President, Big Loud Management), Joey Moi (Partner/Producer/President of A&R, Big Loud)
Front Row – Seth England (Partner/CEO, Big Loud), Austen Adams (COO, Big Loud)
NASHVILLE, TENN. – Independent music powerhouse Big Loud Records is proud to announce today the signing of Canada-born, Midwest-bred singer/songwriter Griffen Palmer. Breaking the mold with a sound all his own, Palmer is a lyrical force with a charming voice to match, rooted in accessible lyrics, small town sentiments, and deeply heartfelt ballads that leave listeners asking for more.
"Griffen is an incredible talent, and we couldn't be more proud to keep him in the Big Loud family as a recording artist," says Big Loud Partner/CEO Seth England. "His music is representative of who he is: thoughtful, strong, complex, nuanced. We can't wait for everyone to get to know and love him the same way we do."
"Big Loud has been my home in Nashville since day one," shares Palmer. "Everyone in the building has been so supportive of me these past few years as I've been developing my songwriting and figuring out my next steps as an artist. Waking up every day in this town and creating with a team like this behind me is an absolute dream, and I can't wait to start this new chapter by rolling out the music."
Developing an affinity for music at a young age, the Ontario native grew up in a musical family, with early influences including John Mayer, Kings of Leon, Elton John, The Eagles, and Bruce Hornsby. Palmer's father bought him a drum kit in elementary school and challenged him to develop an appreciation for not just the sound and structure of the music he loved, but the lyrics within it. Soon after, the music-obsessed upstart found himself writing originals of his own.
Discovering a love for country music during his tenure at Bowling Green State University in Ohio, Palmer would bring both fan-favorite covers and his own raved-about originals to four-hour dive bar sets around campus, refining his performance skills and developing his pen. Shortly after graduation, he was introduced to GRAMMY-nominated songwriter Geoff Warburton (5 Seconds of Summer, Shawn Mendes) at a house party, and the collaborators found in one another a creative partnership for the ages. Palmer signed a publishing deal with Big Loud Publishing in 2019, shortly after relocating to Nashville, Tenn.
With an impressive rolodex of cuts already on superstars like Florida Georgia Line, Keith Urban, The Band Camino, Chelsea Cutler, Jade Eagleson, and more, the rising singer/songwriter is pairing reputable writing chops with captivating vocal performance to bring the original music he's been writing for years to life under his own name.
In 2020, Palmer made an unforgettable introduction on NBC's Songland, winning his episode after collaborating with Shane McAnally, Brian Kelley, and Tyler Hubbard on the romantic, heartfelt ballad "Second Guessing." Now, the swoon-worthy newcomer will make his Big Loud Records debut with the same song, infusing acoustic, pop-country style into a solo version – out everywhere this Friday (1/13). Palmer's debut album will arrive later this year.
ABOUT GRIFFEN PALMER
On the rise singer/songwriter Griffen Palmer is more than meets the eye. Having grown up musically, his father – a musician and artist – instilled an appreciation for lyricism in him early on that soon turned into a love for the craft of songwriting. Nurturing a strong pen and sturdy performance chops through four-hour cover sets in dusty college bars at Ohio's Bowling Green State University, the D1 rugby player's house party introduction to GRAMMY-nominated hitmaker Geoff Warburton (Shawn Mendes, Machine Gun Kelly, Jake Owen) was the tip of the scale that brought him to Music City. After winning NBC's Songland in May of 2020, the in-demand wordsmith earned cuts with global superstars Florida Georgia Line ("Second Guessing") and Keith Urban ("Polaroid") as well as The Band Camino, Chelsea Cutler, MacKenzie Porter, Jade Eagleson and more. The 27-year-old will showcase his midwestern drive and versatile style with the release of his debut album due in 2023.
ABOUT BIG LOUD RECORDS
Big Loud Records' head-turning success story began in 2015. Tallying over 17 billion global streams, 14 #1 U.S. airplay and 20 #1 Canadian airplay hits, and RIAA gold, platinum, and multi-platinum certifications, the Big Loud Records roster is home to genre standouts Morgan Wallen, Jake Owen, Lauren Alaina, Chris Lane, HARDY, MacKenzie Porter, ERNEST, Ben Burgess, Dallas Smith, Ashland Craft, Larry Fleet, Griffen Palmer, Shawn Austin, Lily Rose, Jake Worthington, and Ashley Cooke. In 2019, the cutting-edge label partnered with award-winning songwriter Nicolle Galyon to form female-driven label Songs & Daughters – launching the career of flagship artist Madison Kozak and teaming with critically-acclaimed singer-songwriter Hailey Whitters. Records was honored as the #1 Billboard Hot Country Songs label in 2021 + 2022, the 2022 MusicRow Label Group of the Year, Platinum Label at the 2021 CRS/Country Aircheck Awards, with Billboard 2021 40 Under 40 honoree Stacy Blythe (SVP Promotion) and Ali Matkosky (VP Promotion) earning SVP-VP/National Promotion and Director/National Promotion titles respectively. Adding accolades, CEO/Partner Seth England is a two-time Billboard Indie Power Player, SVP/GM Patch Culbertson is one of Billboard's 40 Under 40 for 2022, and England, Joey Moi (Partner/Producer/President of A&R), Craig Wiseman (Partner/Songwriter), Austen Adams (COO), and Candice Watkins (SVP Marketing) are 2021 + 2022 Billboard Country Power Players. Learn more about Big Loud Records here, and connect with us on social media here.
# # #
Media Contacts
Jess Anderson + Mackenzie Pepper | Big Loud Records
Image by Chris Hornbuckle | Download Here
"Second Guessing" Cover Art | Courtesy of Big Loud Records | Download Here
RETURN HOME