ROSE KICKS OFF PRIDE MONTH WITH ELECTRIC PERFORMANCE OF "SAD IN THE SUMMER"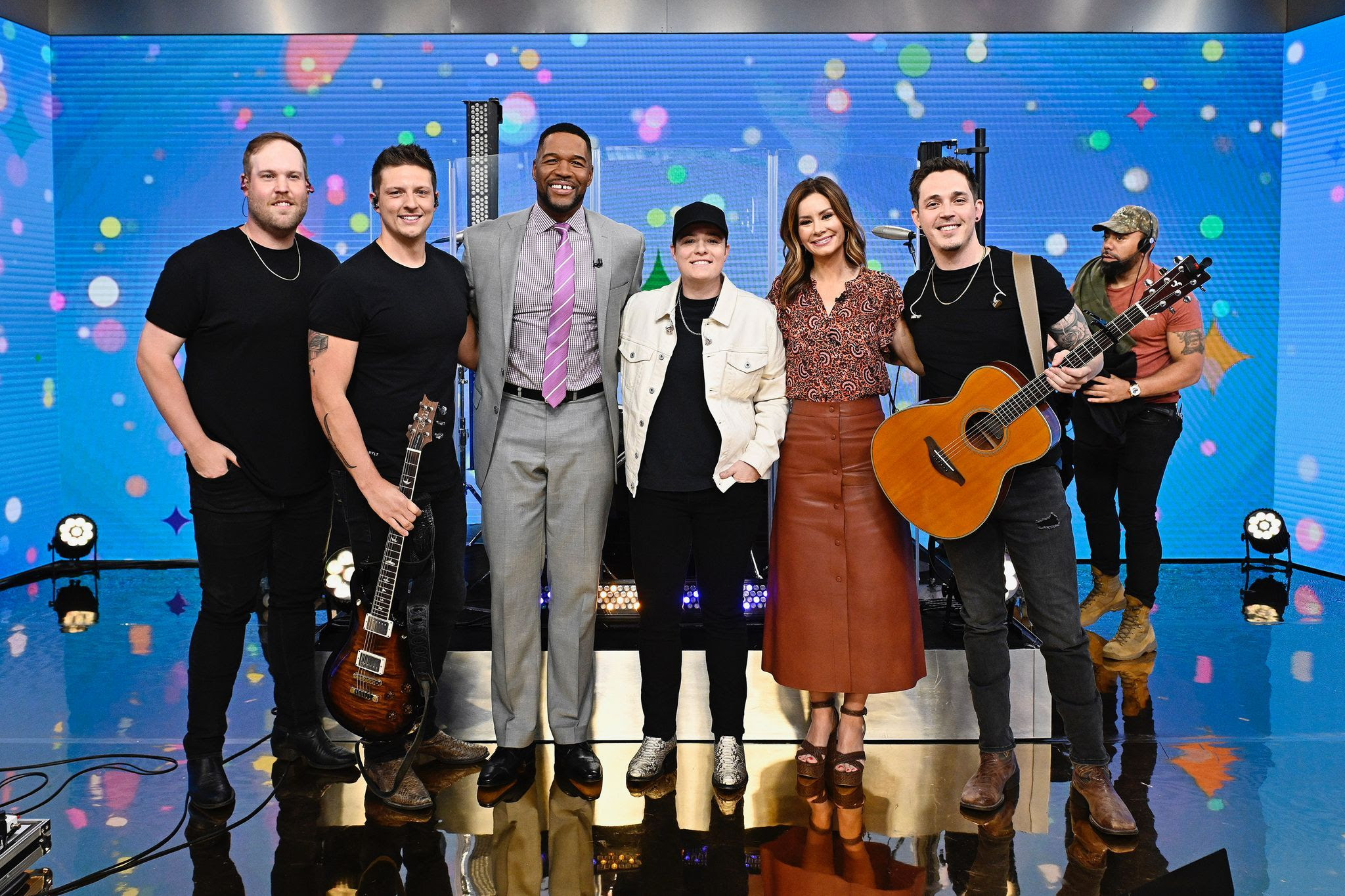 Lily Rose + band with GMA host Michael Strahan and ABC News' Rebecca Jarvis after her performance of "Sad In The Summer" on ABC's Good Morning America
Photo courtesy of ABC / Paula Lobo
NASHVILLE, TENN. – Groundbreaking country artist Lily Rose lit up ABC's Good Morning America marking her highly anticipated morning television debut. Kicking off the official start of Pride Month, the 2022 GLAAD Outstanding Breakthrough Artist rocked the stage with a live performance of her hit collaboration, "Sad in the Summer" from Diplo's just-released country project Thomas Wesley: Chapter 2 – Swamp Savant. 
The high energy performance was flanked with moody lighting and disco balls as Rose and her band performed the summer heartbreak anthem. ABC News' Rebecca Jarvis led a live studio audience as they danced and sang along live from the broadcast's Times Square studios.
Rose's GMA debut comes just a week after her swampy performance with Diplo on the electrifying season finale of NBC's The Voice, where they captivated viewers with a moody rendition of "Sad in the Summer." Watch the moment here.
Rose returns to CMA Fest on June 8 at the Chevy Riverfront Stage before bringing her high-energy live performance on Sam Hunt's Summer On The Outskirts Tour, kicking off on July 6 in Hartford, Conn.. To finish out her year of bucket list first, Rose will appear on Shania Twain's Queen of Me Tour beginning Oct. 12 in San Antonio, Texas. For dates and more information, visit lilyrosemusic.net and keep up with her on Instagram, TikTok and YouTube.
#    #    #
ABOUT LILY ROSE
​​Words like "groundbreaking" and "trailblazing" are often overused. But for Big Loud Records / Back Blocks Music and Republic Records country star Lily Rose, they may actually be an understatement. The modern expression of country's most treasured ideal – pure, unflinching honesty – her debut hit "Villain" has revealed Rose as a talent both 100-percent unique and utterly relatable, with a fresh perspective and forward-looking sound. A Georgia native whose inspirations range from Bruce Springsteen to Keith Urban and Katy Perry, Rose broke out in 2020 with the viral smash, "Villain." Both vulnerable and defiant with a boundary pushing country-meets-R&B sound, the track hit No. 1 on the iTunes all-genre chart and SiriusXM's The Highway Hot 30 Weekend Countdown, leading to her new, ten-song project, Stronger Than I Am. In 2022, Rose was nominated for ACM New Female Artist of the Year and recognized for Outstanding Breakthrough Artist at the 2022 GLAAD Media Awards. Rose kicked off 2023 with a headlining tour that featured sold-out shows across the country and gears up to join Sam Hunt for his Summer On The Outskirts Tour before appearing on Shania Twain's Queen of Me Tour in the fall. With her focus firmly on integrity, Rose's bold mix of personal lyricism and distinctive language meets the hooky sonics of a post-genre fanbase, as pure-country confessions merge with hip-hop beats and R&B flow – plus representation where there was none before. All told, it gives new credence to her "groundbreaking" label.
Media Contacts
For Lily Rose
Jess Anderson + Mackenzie Pepper | Big Loud Records
Beau Benton | Republic Records
For Diplo
Reid Kutrow or Ethan Jacobs | Sacks & Co
Lily Rose performs "Sad In The Summer" on ABC's Good Morning America
Photo courtesy of ABC / Paula Lobo
Lily Rose | Image by Brayln Kelly | Download Here
Diplo | Image by Aidan Cullen | Download Here
RETURN HOME